This Video Has Nothing To Do With Funeral Service But You'll Love It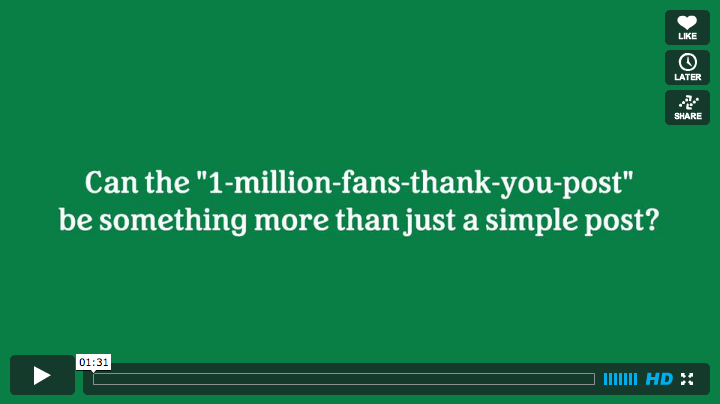 Funeral services is about serving in a time of need. You do your best to make every interaction with client families one that is positive and makes them feel compassion.
A popular beer company ran a social media campaign that aimed to do just that. Watch this video below and think about how a funeral home could extend this type of thankful message to build their image and the image of the profession as a whole.
"One Like = One Balloon"
"One Like = One Balloon" from ID on Vimeo.

DISRUPT Media is a full service social media agency specializing in social media strategy, management and reporting for funeral companies. DISRUPT Media is the creator of the FUNERAL Social Design Process which is the only full service social media strategy program crafted specifically for the funeral profession.

Go to http://funeralsocial.com to find out more about the services we offer. Our clients who are apart of our FUNERAL Social Design Process are seeing an increase in post reach and engagement of over 300%.

Latest posts by DISRUPT Media (see all)
You may be interested
Cremation
3 views
Funeral Homes are Struggling to Keep Their Doors Open
Ryan Thogmartin
-
August 13, 2017
This is a topic and conversation that does not get talked about or covered enough. We all want to put the blame on cremation and ignore the fact that many of the issues facing funeral homes aren't because families choose cremation but because of bad business decisions of many funeral directors who don't want to change or accept cremation.
Jobs
2 views
Preneed Funeral Sales Advisor
CDFuneralNews
-
August 11, 2017
Premier Funeral Solutions is currently seeking a Preneed Funeral Sales Advisor . Premier Funeral Solutions offers tools and methodologies developed to help…
Marketing
3 views
12 Benefits of Social Media Every Funeral Home Needs to Know
Ryan Thogmartin
-
August 10, 2017
Social media is 'marketing.' It's not the new marketing, it's the current state of marketing, and funeral homes and death care companies can no longer afford to ignore it. There are so many reasons why death care companies need to get their heads out of the sand and start engaging on the platforms used by over 68% of all Americans.
Comments