New Infinity Two Solar Flat Marker and Cremation Product Introduced at Industry Shows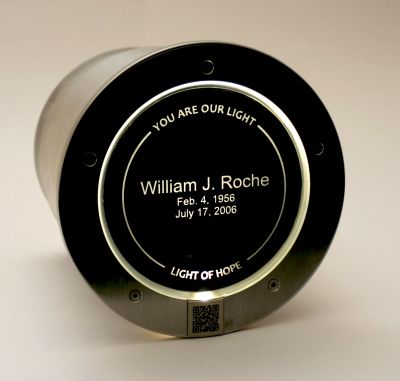 Light of Hope® introduced a new product in its solar Infinity Luminaire product line at industry shows in February and March. Designed specifically to meet the needs of the flat marker and cremation markets, Infinity Two will be available in August.
"Infinity Two offers families a wider choice in cremation memorials with the addition of warm, comforting light to flat markers and other in-ground installations, in addition to use with cremation urns," said Brad Carlson, Light of Hope® president and CEO.
"Over the last two years, we have heard over and over about the growth of cremation and increased popularity of flat markers," Carlson said.  "And, the overwhelming interest in Infinity Two at these shows certainly reflected that demand."
"We are very high on Infinity One," said Ken Reeson of Summit Memorials in Canada.  "There is a strong emotional connection with having a light on a memorial that runs very deep with our families. Selling luminaires gives us the opportunity to add significantly to the perceived value of the memorials for families while increasing our average sale amount."
Infinity Two substantially expands his market for memorial lighting, Reeson said. "Having a model that is designed specifically for those who choose cremation is critical for us because the rate is 66% in Alberta."
Ron Bohman of Genesis Granite in Spokane WA noted that "Infinity Two is a great product, especially for cremation-intense markets" like his.  "Our families can combine three elements in a full cremation memorial package: an engraved, customized vase block or other carved stone; an in-ground urn for cremated remains; and the light, which adds comforting warmth."
Designed, engineered and assembled in the United States, Infinity Two is intended specifically for memorialization.  It can be paired with a granite urn or round vase block and placed beside a bench, sculpture, tree, home garden or other living memorial, installed in a burial plot, along walkways, or serve as the actual memorial containing cremated remains.  Depending on solar input, Infinity Two will remain illuminated for up to 10 hours each night depending upon model, installation location and solar input.
Product highlights of the Infinity Two include:
Edge-lit tempered glass
360º warm, halo lighting
Bronze cover ring bezel option (future availability)
Light of Hope® introduced the first solar light designed specifically for memorialization in late 2011.  The Infinity One enhances the natural color, luster and beauty of a wide variety of upright monuments, memorials, markers and can be mounted on flagpoles.
Both Infinity models feature:
     Optional cremation urn attachment
     Availability of custom-etching of the tempered glass

Two energy storage methods

300,000-cycle super capacitors
Battery-hybrid which is best suited for shaded installations or those in northern or cloudy climates

adjustments for both lighting intensity and duration in hours

Durable materials and construction
10-year replacement warranty
QR code which links to a family created web-based tribute
  For further information about Infinity Two, Infinity One or becoming a dealer, contact: info@lightofhope.com, 248.494.4400, www.lightofhope.com.
About Light of Hope® – U.S. manufactured and assembled specifically for memorialization, Light of Hope® luminaires utilize cutting-edge technology including solar power, unique energy storage capabilities and LED lighting.  Backed by a 10-year unlimited warranty, the enduring, highly versatile Infinity luminaires are designed to enhance a wide variety of monuments, markers, urns, home and cemetery features and memorial environments.  www.lightofhope.com
Contact:  Sandy Carlson
Vice President Family Services
Light of Hope®
248-484-4400 ext.201
ConnectingDirectors.com is the leading online daily publication for funeral professionals with a reader base of over 45,000 of the most elite and forward-thinking professionals in the profession. With ConnectingDirectors.com we have created a global community through an online platform allowing funeral professionals to Stay Current. Stay Informed and Stay Elite.
Latest posts by CDFuneralNews (see all)
You may be interested
Marketing
140 views
4 Social Media Mistakes Death Care Companies Are Making (and How to Fix Them)
Ryan Thogmartin
-
August 22, 2017
On one hand, there's always something new to learn and try. However, not everything makes sense when it comes to marketing death care companies. We've watched many funeral organizations lose focus on strategy due to the bright and shiny nature of the new tactics that pop up. Tactics come in all shapes, sizes and value levels. Some are new features that are useful and others can be 'shortcuts' that ultimately lead us in the wrong direction. Recent conversations got us thinking, so we wanted to talk about some social media marketing mistakes we see death care companies make, and how they can fix them.
Death Discussions
21 views
Death Discussions
21 views
August 31 is International Overdose Awareness Day (IOAD)
Ryan Thogmartin
-
August 21, 2017
Unfortunately, the opioid epidemic isn't much of a headline anymore. With over 100 overdose-related deaths everyday, we, as a country, have become desensitized to death and drugs. Funeral homes are charged with taking care of the final arrangements for those who have been taken from this earth too soon.
Jobs
7 views
Director of Support – Western US
CDFuneralNews
-
August 21, 2017
At Carriage Services, we believe in the concept of "First Who, Then What." We have learned that leaders, who attract and surround…
Comments