Top 10: Kids Movies Dealing with Loss, Death & Grief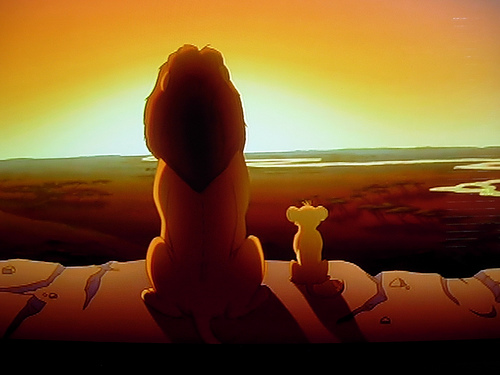 Kids movies can be helpful when trying to teach your children about loss, death, and grief
Grieving the loss of a loved one can be especially confusing and painful for children, and explaining death and grief to children can be very difficult for a parent or caretaker.  Like children's books, movies can help kids cope with their feelings. The visual element of movies in particular makes it easy for children to identify with characters and story lines.
Each of the movies on my top 10 list touch on loss, death, and/or grief, and can be a great way to start a conversation with a child about their feelings. Although the movies on this list are generally appropriate for all audiences, some children may not be ready for certain thematic elements.  I have included an array of movies so that you can be sure to find one that is the right fit for your child.
1) The Lion King (1994), Rated G
In addition to its famed circle of life message, The Lion King brilliantly captures the pain of loss and the steps that one must take to again find wholeness after the death of a loved one.  After his father's sudden passing, young Simba must decide how to put the pieces of his life back together.  As we know, death is confusing and sometimes guilt-inducing, especially for a cub.  Initially the young lion escapes to a land of no responsibility, but as an adult, he eventually faces the reality of loss and again finds wholeness within his community.  Both vulnerable and brave, a ruler and an outcast, your child is sure to find a little himself in Simba, one of Disney's most compelling animated heroes of all time.
2) The Fox and the Hound (1981), Rated G
The Fox and the Hound is one of the few children's movies to address loss – not in the form of death but in life.  Two inseparable childhood friends, a fox (Tod) and a hound (Copper), are fated for separate lives as one is to be the hunter and the other the hunted.   As they approach adulthood, each falls into his prescribed role, and the two friends are left never see each other again, with only the memories of their youth.  The movie is as much an allegory for the prejudices of society as it is a movie about the loss of an important friendship. The film is a great, gentle tool for a conversation about a range of issues dealing with loss.
3) The Land Before Time (1988), Rated G
This movie is special in that it maps tragedy and loss in such a way that is remarkably specific to the mind of a child.  Director Don Bluth has a knack for developing characters and stories that resonate deeply with children.  Anyone who saw The Land Before Time in his or her youth would be hard pressed to forget Littlefoot's mother's voice as she guides him to the Great Valley, and his grandparents' embrace upon their emotional reunion.  Often considered a retelling of Bambi, this non-Disney film includes a dinosaur fight scene that might not be appropriate for all viewers.   However, a cast of lighthearted dinosaur friends and a fun prehistoric adventure provide enough distraction for most children.
4) Up (2009), Rated PG
Using small, gentle vignettes, the opening sequence of Up tells the story of a man, Carl, and a woman who meet as children, fall in love, and marry.  When his wife dies, Carl turns into a lonely curmudgeon, forsaking the world for fear of again feeling the pain of loss.  It takes an unexpected adventure with a loving, inquisitive boy (a surrogate for the son he never had) to teach Carl to trust in friendship.  Undoubtedly you will find the opening sequence of this movie heartbreaking, but as a whole, Up addresses death in a nurturing, sensitive way.
5) We Bought a Zoo (2011), Rated PG
Like Up, We Bought a Zoo focuses on the grief associated with death, rather than the death itself.  A recently widowed father bonds with his children and remembers his beloved wife as he takes on the project of renovating a struggling zoo.  Directed by Cameron Crowe and based on a true story, this live action movie is sure to speak to you as well as your children. This film is a terrific choice for anyone wishing to discuss grief and legacies as a family.
6) Finding Nemo (2003), Rated G
Finding Nemo deals with the loss of a parent, but maintains a remarkable sense of levity throughout, despite the initial tragedy of a mother's sudden death.  Nemo and his father, Marlin, both clownfish, go on a wild ocean adventure and meet a cast of endearing characters along the way.  Buried in the humor and adventure is the reality of loss, as Marlin must face his anxiety of losing Nemo, his only remaining family member, and manage his fear of death in order to live a happy life.
7) Fly Away Home (1996), Rated PG
In this film, a young girl, Amy, must cope with the tragic loss of her mother and learn to live with her sculptor father.  Amy is sensitive and observant, and very relatable to children and young adults.  Similarly to We Bought a Zoo, it takes an unconventional challenge – this time helping geese migrate to safety – to strengthen family bonds and restore a sense of normalcy.  This engaging, beautifully directed movie is a must for families looking to begin a conversation about loss.
8) Harry Potter and the Sorcerer's Stone (2001), Rated PG
At the core of one of the biggest box office successes of all time is a touching story about a boy and the loss of his parents.  Harry's adventures force him to deal with the tragic death of his family, and the viewer is privy to Harry's thoughts and memories as he grapples with his loss.  As tragedy is just one of many themes in this movie, which also includes aspects of adventure, fantasy, and humor, Harry Potter and the Sorcerer's Stone can provide a loose introduction to death for children.
9) Charlotte's Web (1973), Rated G
Touching, sad, and inspiring this classic children's movie touches on the themes of love, loyalty, friendship, and loss. Both the film and the book continue – year after year – to be relevant for children of all ages.  Wilbur, a pig, is saved from slaughter by a benevolent spider who weaves words into her web, such as "SOME PIG," to catch the attention of humans.  Wilbur and Charlotte become good friends.  Their friendship, however, is cut short as Charlotte dies while Wilbur is still young.  She had children, however, and her children have children so in the end, Wilbur is never alone and always feels close to his old friend Charlotte.  Charlotte's Web provides a gentle introduction to the circle of life, but may be too emotional for some children (and some adults).
10) Bambi (1942), Rated Approved
Bambi is often considered the quintessential Disney movie about loss.  It has introduced countless children to the reality of death, and continues to be a staple in the Disney animated lineup.   The movie also speaks to the loss of nature against humans, as "Man" is responsible for the shooting of Bambi's mother.  The adorable characters, delicately had-drawn, have found their way into the hearts of millions. Bambi addresses the theme of death in a serious way and doesn't have quite the frivolity of some other movies on this list.  Especially when compared to contemporary family fare, it could be too intense for some children, though its artistry and historical relevancy are significant.
What movies have you used as conversation-starters with your kids? Have you found that films make it easier to discuss death with your children? I'd love to hear your thoughts in the comments section below!
To check out more of my favorites, read my other Top 10 lists related to caregiving, end-of-life, death, dying, and loss.
Nicholas Kania works in marketing for Cleveland, Ohio-based eFuneral, an online resource providing caregivers and those thinking about end-of-life with free, helpful information.

ConnectingDirectors.com is the leading online daily publication for funeral professionals with a reader base of over 45,000 of the most elite and forward-thinking professionals in the profession. With ConnectingDirectors.com we have created a global community through an online platform allowing funeral professionals to Stay Current. Stay Informed and Stay Elite.

Latest posts by CDFuneralNews (see all)
You may be interested
Funeral Industry News
685 views
Funeral Industry News
270 views
Funeral Industry News
270 views
RELEASE THE FN CRAKN! | FUNERAL nation 114
CDFuneralNews
-
June 18, 2018
It's a barn burner... The Commander is moving his Command Post!!! Besides the Commander on the move, the boys speak…
Frontrunner Professional
3 views
Comments