Have You Heard About This New Project In Nevada?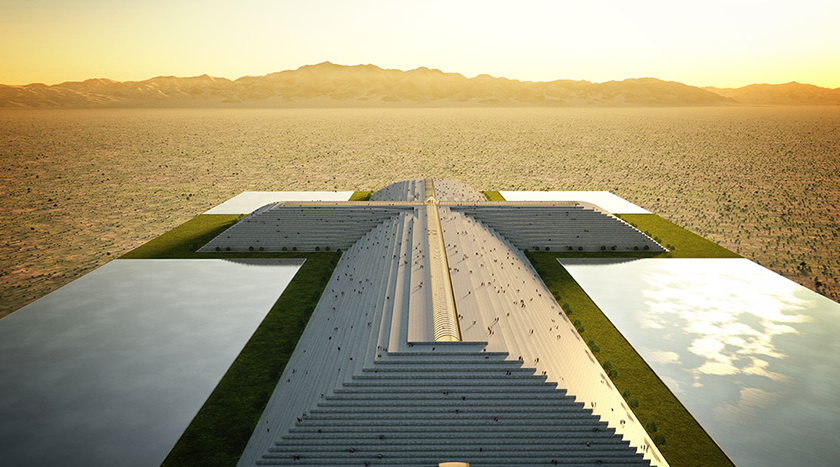 The Great Cross is a massive columbarium and mausoleum that will be a physical memorial to Jesus Christ. This Christian monument will be much larger than the Great Pyramids at Giza and Cholula, making it the largest religious edifice ever built.
The Great Cross will be assembled of approximately 600,000 hollow vaults built from strong synthetic stone. Each vault will contain the remains of one or two people. The Great Cross itself will be one of the largest Christian cemeteries in the world. It is expected to take twenty to thirty years to complete. Inside each arm of the structure will be glass-roofed hallways, 40 feet wide and 183 feet high, leading to a central chapel, 100 feet in diameter. The walls of the hallways will contain about 7,500 mausoleum spaces for one or two full-size caskets, and about 8,500 vaults for cremated remains.
The Great Cross itself will enclose a volume of 8.6 million cubic meters. It will be 3,000 feet (914 meters) long, and 1,845 feet (562 meters) across. Each of the four arms will be 570 feet (174 meters) wide, and 183 feet (56 meters) high, to the top of the masonry structure. At the top of the glass dome, the structure will be 213 feet high.
The central chapel will be the protected heart of the monument, designed to protect the Word of God in readable condition for at least ten thousand years. The curved walls of the center chapel will be inscribed with the full text of the Bible in the four most widely spoken languages in the world, which are English, Mandarin Chinese, Spanish, and Hindi.
The Great Cross will clearly be very expensive to build.  How, in the modern world, can something so enormous be constructed?  Where will the money come from?
The Great Cross will be supported and funded by its members.  While each person's contribution will be comparatively small, the Great Cross will inter about a million people.  A million of us can do things that one or a few of us could only dream of.  We will all have to spend something on our final arrangements at some point, and interment in the Great Cross will cost less than most of us plan to spend.  By pooling our expenditures instead of dispersing them, we can build Christianity's greatest physical monument.
The Great Cross Alliance will protect itself from inflation, bad investments, changes in tax laws, or other monetary mishaps by building the structure as funds are received. The Great Cross Alliance will not wait for the member to pass from this life before building and placing the vault.  A member who pays for a vault will be able to come to the site and see their very own vault within a reasonable time after funding.  The member's face plate can be inscribed ahead of time, except for year of passing, and a temporary identification plate will be left inside every vault.
Read more about this enormous project: http://www.thegreatcrossalliance.com/

ConnectingDirectors.com is the leading online daily publication for funeral professionals with a reader base of over 45,000 of the most elite and forward-thinking professionals in the profession. With ConnectingDirectors.com we have created a global community through an online platform allowing funeral professionals to Stay Current. Stay Informed and Stay Elite.

Latest posts by CDFuneralNews (see all)
You may be interested
Funeral Industry Press Releases
76 views
News
189 views
We are Building Something Exciting for You… and We Need Your Help!
Justin Crowe
-
January 31, 2018
We want to make your deathcare job easier. Tell us what you want in this 2-minute survey and get entered to win $100! The Connecting Directors and Disrupt Media teams are excited to be planning some new free funeral home marketing content and products for you in 2018 and we want to know what you need most! We want to know your biggest business wins of 2017, the tasks in your day that you hate, and what you feel is holding you back!
Comments