Thacker Launches New Website Featuring iArrange ™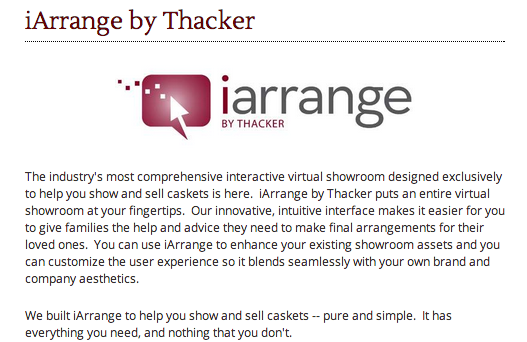 Thacker Caskets, Inc. officially launched their new website on July 15th 2013.  The launch was two-fold in that Thacker launched a brand new public facing website, while also launching their new iArrange ™ system.  iArrange ™ is the industry's first interactive virtual showroom designed exclusively to help funeral director's present their casket selection.
"iArrange has been built on the simple philosophy of making the selection of the casket an efficient, but meaningful process for the family at a time when they have a lot of decisions to make," remarks Danielle Thacker, Director of Information Technology.  The new web-based and mobile optimized casket selection room tool by Thacker is centered on the concept of "Brand It, Build It, View It."
Brand It–  Each funeral home will receive an individual login & password that will allow access to their own unique and individual iArrange ™ portal.  Upon login, iArrange ™ will brand itself to the individual funeral home and their current marketing scheme.
Infinite color schemes are available as iArrange ™ allows for the ability to customize the website header, footer, text, and button colors all individually.
Upload your logo so the funeral home will be prominently displayed in the header of the website.
Create a link to the funeral home's current website for reference purposes during arrangements.
Personalize text & select from an image library to make the client family's experience in iArrange ™ even more personal to the funeral home.
Build It— iArrange ™ gives the funeral home the ability to create, setup and modify selection rooms.  A room may contain a general grouping of caskets, or it may be 'goal-defined'.  For example, a funeral director may setup a room solely dedicated to "Enhanced Width" options for those families who must select an oversize casket.  Once a room is created, a funeral director can add & remove product from that room, assign their own pricing, as well as modify display options.  Modifying display options allows the funeral home to apply the same merchandising principles that it uses in a physical selection room environment to the online environment.
View It – iArrange ™ has an incredibly robust interactive viewing tool in order to display the caskets to a family.
"The Product Finder" allows the funeral director to sort and filter in an "e-commerce style environment" by many attributes important to families today.
360° Views display the caskets at all angles to give the family a true picture of what the casket looks like.
Powerful Zoom Functionality allows funeral directors to display all details of the casket including head panel embroideries, hardware details, paint schemes, etc.
Closed Casket View allows the family to see what the casket will look like while closed perhaps in church or at the cemetery.
Pop-In Emboridered Panels display what a particular embroidered panel will look like in the particular casket's paint color and interior color.
"At Thacker, we do not believe any one method of displaying caskets to be better than the next.  Each method has its own advantages and it depends on a variety of factors to determine which method is right for your funeral home.  As a casket supplier it is our job that no matter how you display your casket selection, your display method is professional," says President & CEO, CJ Thacker.
Danielle Thacker adds, "iArrange ™ is versatile in that it can be used as a supplement to your current display room. We have created a very exciting display system in which a flat screen is mounted to slatwall and connected wirelessly to an iPad via AppleTV.  This allows the funeral home the ability to supplement their current full/cut room display with the online piece."
Thacker Caskets, Inc. was founded in 1939 and has grown to become the largest family owned casket supplier in the United States and 4th largest overall casket supplier.  For more information, please contact Danielle Thacker at 800-637-8891 and to inquire specifically about iArrange ™, please visit: www.thackercaskets.com/iArrange
ConnectingDirectors.com is the leading online daily publication for funeral professionals with a reader base of over 45,000 of the most elite and forward-thinking professionals in the profession. With ConnectingDirectors.com we have created a global community through an online platform allowing funeral professionals to Stay Current. Stay Informed and Stay Elite.
Latest posts by CDFuneralNews (see all)
You may be interested
Marketing
2 views
4 Social Media Mistakes Death Care Companies Are Making (and How to Fix Them)
Ryan Thogmartin
-
August 22, 2017
On one hand, there's always something new to learn and try. However, not everything makes sense when it comes to marketing death care companies. We've watched many funeral organizations lose focus on strategy due to the bright and shiny nature of the new tactics that pop up. Tactics come in all shapes, sizes and value levels. Some are new features that are useful and others can be 'shortcuts' that ultimately lead us in the wrong direction. Recent conversations got us thinking, so we wanted to talk about some social media marketing mistakes we see death care companies make, and how they can fix them.
Death Discussions
3 views
August 31 is International Overdose Awareness Day (IOAD)
Ryan Thogmartin
-
August 21, 2017
Unfortunately, the opioid epidemic isn't much of a headline anymore. With over 100 overdose-related deaths everyday, we, as a country, have become desensitized to death and drugs. Funeral homes are charged with taking care of the final arrangements for those who have been taken from this earth too soon.
Jobs
5 views
Director of Support – Western US
CDFuneralNews
-
August 21, 2017
At Carriage Services, we believe in the concept of "First Who, Then What." We have learned that leaders, who attract and surround…
Comments