California Couple, Born on the Same Day & Married 75 Years, Die One Day Apart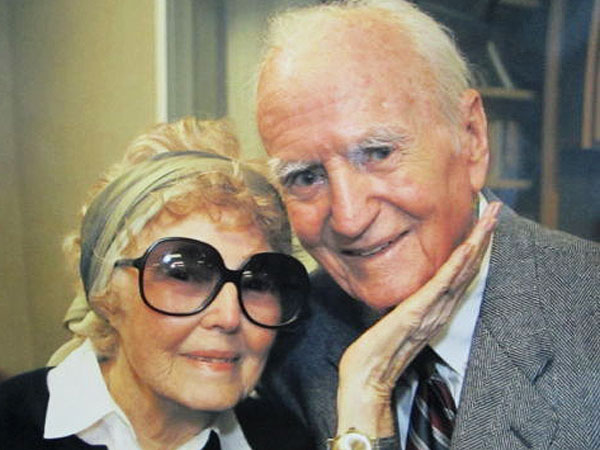 They said it wouldn't work but after a lifetime together, Helen and Les Brown proved everyone wrong.
The California couple and high school sweethearts, who were both born on the same day and celebrated their 75th wedding anniversary this year, died one day apart: Helen passed away on July 16, and Les died the next day. They were 94.
"It was a real love match, wasn't it?" their oldest son, Les Jr., told the Long Beach Press-Telegram. "They were together every day for 75 years."
The Long Beach lovebirds eloped on Sept. 19, 1937, and were married against their own parents' wishes, according to their sons. Helen was from a working-class family, while Les was from a wealthier one. Both sides believed the love would never last, but the two embodied the meaning of their wedding vows "for better, for worse, for richer, for poorer, in sickness and in health, until death do us part."
The Browns moved to Long Beach in 1963, where Helen was a housewife with a knack for buying and selling area properties while Les owned a photography studio, serving as a photographer for the Navy.
Despite being born the same day, the Browns were two different people, according to their sons, who said Mom was strict while Dad was more laid-back. Like all couples, their children said they had issues to work through during their years together but that the two constantly reaffirmed their love, a special bond that was always on display.
Zach Henderson, owner of the Ma N'Pa Grocery, a corner store near the Brown's home in Long Beach, said he saw the couple almost daily.
"About a year ago, [Helen] had her hand on his face and they were cheek to cheek," Henderson told ABC News. "She said, 'Isn't he the most handsome man you've ever seen?' "
At the time of their deaths, Les was suffering from Parkinson's and Helen had stomach cancer, according to the Press-Telegram.
The Brown's youngest son, Daniel, summed up his parents' life and death.
"My mom often said she didn't want to see my father die, and he didn't want to live without her."
[via: People.com]
CEO at DISRUPT Media and ConnectingDirector.com
Ryan Thogmartin is the Owner and CEO of DISRUPT Media. DISRUPT Media is a full service social media agency specializing in social media strategy, management and reporting for funeral companies. DISRUPT Media is the creator of the FUNERAL Social Design Process which is the only full service social media strategy program crafted specifically for the funeral profession.

Go to http://funeralsocial.com to find out more about the services we offer. Our clients who are apart of our FUNERAL Social Design Process are seeing an increase in post reach and engagement of over 300%.

Ryan is also the founder of ConnectingDirectors.com. ConnectingDirectors.com is the leading online daily publication for funeral professionals with a reader base of over 45,000 of the most elite and forward-thinking professionals in the profession. With ConnectingDirectors.com Ryan has created a global community through an online platform allowing funeral professionals to Stay Current. Stay Informed and Stay Elite.
Latest posts by Ryan Thogmartin (see all)
You may be interested
Cremation
3 views
Funeral Homes are Struggling to Keep Their Doors Open
Ryan Thogmartin
-
August 13, 2017
This is a topic and conversation that does not get talked about or covered enough. We all want to put the blame on cremation and ignore the fact that many of the issues facing funeral homes aren't because families choose cremation but because of bad business decisions of many funeral directors who don't want to change or accept cremation.
Jobs
2 views
Preneed Funeral Sales Advisor
CDFuneralNews
-
August 11, 2017
Premier Funeral Solutions is currently seeking a Preneed Funeral Sales Advisor . Premier Funeral Solutions offers tools and methodologies developed to help…
Marketing
3 views
12 Benefits of Social Media Every Funeral Home Needs to Know
Ryan Thogmartin
-
August 10, 2017
Social media is 'marketing.' It's not the new marketing, it's the current state of marketing, and funeral homes and death care companies can no longer afford to ignore it. There are so many reasons why death care companies need to get their heads out of the sand and start engaging on the platforms used by over 68% of all Americans.
Comments