Another Kid Who Just Killed Himself By Texting While Driving, These Are The Last Words
Texting while driving is a subject that is very personal for me. As many of you know I was involved in a fatal accident in 2010. A teen girl was texting while driving causing her to go left-of-center and hit me head on.
I suffered a severely broke right femur. I now have a titanuim rod that runs from my right hip down to my knee and is held in place by 5 screws. I was fortunate enough to recover fully, the passenger riding with the girl who hit me was not. He died instantly in the crash.
The image below is a of my SUV taken while EMS were trying to remove me from the vehicle.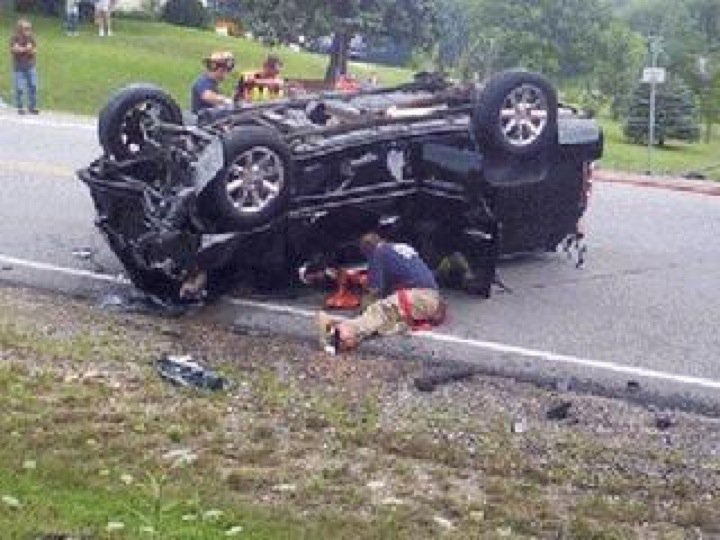 The below article is from BusinessInsider.com 
On April 3rd, a college student in Greeley, Colo., Alexander Heit, lost control of his car and plunged over an embankment.
Heit survived the crash, but died later at a nearby hospital.
Before he crashed, Heit had a flawless driving record.
According to witnesses, in the last seconds of his life, Heit had his head down. His car drifted across the road into the left lane, causing an oncoming car to pull over in alarm. At the last moment, Heit saw what had happened and jerked the wheel to correct his mistake. He over-corrected, however, and his car swerved off the road and rolled.
Police found Heit's cell phone in the wreck. They later determined that he had been texting while driving.
His last words were preserved on his phone: 
Sherrie Peif of the Greeley Tribune reports that Heit's mother Sharon has released the following statement, which she hopes will persuade others not to make the mistake that killed her son:
"I can't bear the thought of anyone else having to go through something like this," Heit wrote in the release. "Please, vow to never, NEVER text and drive. In a split second you could ruin your future, injure or kill others, and tear a hole in the heart of everyone who loves you."
Read more at the Greeley Tribune >
Have you considering doing or done a "Texting While Driving" campaign for your community? If so, please share below.
CEO at DISRUPT Media and ConnectingDirector.com
Ryan Thogmartin is the Owner and CEO of DISRUPT Media.

DISRUPT Media is a full-service creative agency built for the now. We partner with death care companies to drive deep-rooted brand loyalty and measurable leads through social media.

More Fans. More Conversations. More Leads.

Ryan is also the founder of ConnectingDirectors.com. ConnectingDirectors.com is the leading online daily publication for funeral professionals with a reader base of over 45,000 of the most elite and forward-thinking professionals in the profession. With ConnectingDirectors.com Ryan has created a global community through an online platform allowing funeral professionals to Stay Current. Stay Informed and Stay Elite.
Latest posts by Ryan Thogmartin (see all)
You may be interested
Funeral Industry News
390 views
Funeral Industry News
1183 views
Comments