Virginia Veterans Buried in Less Than Air-Tight Containers [Part 2]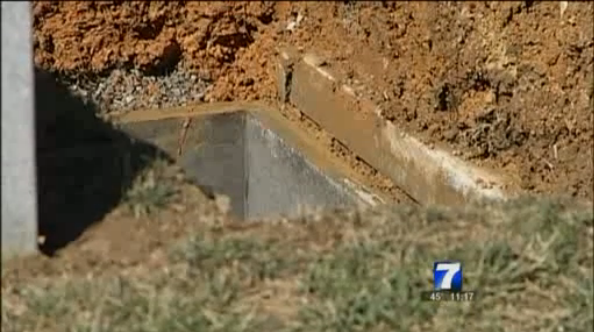 On one hand, the practice appears to be a good example of government efficiency and responsibility with your money. On the other, the practice is raising concerns about how fallen service members and their families are treated at veteran cemeteries around the country.
New River Valley reporter Orlando Salinas reveals how what may be a case of miscommunication is causing an emotional stir for many survivors.
This Southwest Virginia Veterans Cemetery is one of only three in the state where U.S. vets can be buried at zero cost. They've earned that.
A few months back, I met a Vietnam Vet who was steaming mad. He said he'd seen a veterans vault full of water there. That's how this story began.
"Let me tell you he was proud, made me proud and he had flashbacks bad when he got back for a long long time", Marie Runyon is talking about David, her husband of 30 years. He's now buried at the Southwest Virginia Veterans Cemetery in Dublin.
---
---
For 18 months, Mrs. Runyon's been visiting her husband's grave almost every single day. He's buried beneath 24 inches of Virginia soil.
On this day, like every other, Marie weeps and prays, "David I love you. I love you so much. I miss you so bad. Please dear God, help David."
Nearly 200 veterans from all branches are buried on this 24-acre tract, managed by the Virginia Department of Veterans Services. Pre-installed crypts will allow up to 60,000 veterans and their spouses to be buried here.
The veteran who turned me onto this story was tall and soft spoken. He was upset about what he saw, "And I noticed there was a vault in the ground, and I saw it just as it was uncovered, and just as I looked down there, the bottom of it had water in it."
This veteran said that several months ago, he said he saw a grounds keeper jump into a hole at the cemetery in Dublin. Wrapped in a Winter coat, he continued, "One of the folks that worked there had gotten down inside that vault and used something similar to a coffee can to dip water out."
The Veterans Administration, as a rule, nationwide, does not provide vaults for veterans burials.
Rather, at no cost, it offers liners, sometimes called a concrete box. What's the difference? A liner, which looks like a vault, has no seal, leaving the body inside the casket, exposed. A vault though, has an actual seal that locks and keeps outside elements away from the casket.
Videos are shown to families everyday at funeral homes, explaining the difference between burial containers and sealed vaults, as they decide whether to place the casket in a liner or a vault. Neither protects the body forever, but the vault offers more protection.
"The manufacturer has a warranty on them', says Ross Blount with McCoy Funeral Home, "some are 15, some are 25 and beyond. If you're worried about protection, you're going to want to use a vault."
Marie and I kept talking, just a few feet from David's grave. I wondered, so I asked her, "Families may think or they misunderstand maybe thinking these are vaults." Mrs. Runyon answered back fast, "I don't think I was ever told! I just felt they were in vaults like in every other cemetery."
We spoke with a handful of veterans organizations. They tell us they didn't know that veterans caskets were being placed inside unprotected liners. Like Mrs. Runyon, they thought caskets were being placed inside sealed vaults.
To be sure, I asked again, "The question comes down to this, were you told?" Again, the veterans widow answered, "No, definitely not. No, that about vaults, that I could do that and I was just assuming they put them in a vault. You're so tore up, nobody explains anything to you, and I would have put him in one."
The Dublin facility has what are called "pre-installed" outer burial containers, sometimes referred to as crypts or vaults. The complaint is that no one from Veterans services ever explained to veterans' families the difference between government-issued burial liners and sealed vaults.
I asked Mrs. Runyon, as she stood next to me, "Have you decided if you want to join your husband here? Do you know or not yet?" The slender widow said, "I'm not sure if I want to leave him here or not."
Specialist David Runyon's casket, like most of the veterans caskets at veterans cemetery, was placed inside a government-issued outer burial container, also called a liner.
Dan Kemano oversees Virginia's three veterans cemeteries. We put a microphone on his jacket and asked him directly, "So the question really comes down to, are veterans families being told very clearly, that these are not vaults. They're liners and they don't have seals?" Mr. Kemano said "not specifically."
Liners look very much like vaults but cost less, starting around $900, while sealed vaults start at $1,400.
Since 2011, thanks to a federal grant secured by Kameno and his staff, veterans no longer pay to be buried here, saving families thousands of dollars.
Eventually, the liners may hold two caskets, one stacked on top of the other. A common practice at many cemeteries, where space is at a premium.
We tracked down a former grounds manager, who spoke with us by phone. We asked Sam Lucas about water in the burial containers, what he saw, what he knew. "It's something we were told not to discuss it with anybody," Lucas continued, "I mean you still bring it up but you don't want to upset anybody."
It happens everyday, Mrs Runyon stands next to her husband's grave marker and prays through her tears, "Be with him Lord, let him know I care dear father, take care of him heavenly father, in Jesus name."
it's a hard truth for a woman, knowing that her husband's casket sits in a liner, without a seal, possibly exposed to the elements.
Mrs. Runyon dabs her eyes with a tissue and says, "I don't understand why I wasn't told. Seems like people down at the office down there, it would have been part of their job. To tell you, to tell me, tell anybody."
On Tuesday, Mr. Kameno agreed more information for veterans families, was a good thing, "It's not a problem and the state can evaluate it and we can require that each and every family come out here, or I can put it on the pre-application."
[Source: WBDJ 7]

ConnectingDirectors.com is the leading online daily publication for funeral professionals with a reader base of over 45,000 of the most elite and forward-thinking professionals in the profession. With ConnectingDirectors.com we have created a global community through an online platform allowing funeral professionals to Stay Current. Stay Informed and Stay Elite.

Latest posts by CDFuneralNews (see all)
You may be interested
Funeral Industry News
281 views
Funeral Industry News
281 views
Mean Internet Comments – Funeral Edition
CDFuneralNews
-
June 20, 2018
We shine a light on some of the harsh words posted on social media towards DISRUPT Media's CEO, Ryan Thogmartin.…
Funeral Industry News
1126 views
Funeral Industry News
292 views
Funeral Industry News
292 views
RELEASE THE FN CRAKN! | FUNERAL nation 114
CDFuneralNews
-
June 18, 2018
It's a barn burner... The Commander is moving his Command Post!!! Besides the Commander on the move, the boys speak…
Comments