ICCFA Names 2012 'Keep It Personal' Award Winners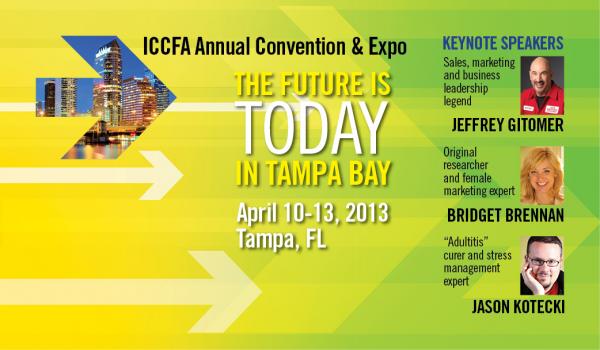 The International Cemetery, Cremation and Funeral Association has named its 2012 KIP (Keeping It Personal) Award winners, recognizing the best in personalization in the cemetery and funeral service profession.
Created by the ICCFA Personalization Committee, the KIP program honors recipients in five categories: Best Practices/Personal Touch; Most Personalized Service/Memorial; Events; Innovative Personalized Product (suppliers only); and Most Personalized Pet Service/Memorial.
This year's contest attracted 41 entries from across the United States, Canada and Austria. Communications and marketing professionals from outside the cemetery and funeral service profession performed the judging. This is the first time a pet service/memorial has won the Grand Prize.
Information on the winners is available on the ICCFA website at www.iccfa.com/certifications-awards. Applications for the 2013 KIP Awards will be available from the ICCFA this spring. The ICCFA congratulates the winners and all who entered the 2012 KIP Awards.
The winners are as follows:
MOST PERSONALIZED PET SERVICE OR MEMORIAL
First Place and Grand Prize Winner
Loyal and True Pet Cremation Services by Loose Funeral Homes
Anderson, IN
In a matter of three short weeks, Madison County, Indiana, lost two K-9 officers in the line of duty. First, officer Kilo was shot by a psychopath who also shot and killed one innocent bystander and wounded officer Kilo's handler. Despite being shot himself, officer Kilo was still guarding his injured handler, so fiercely in fact that his handler had to order his fellow officers to put Kilo down so the emergency team could tend to the handler's wounds. Then, within three weeks, K-9 officer Magnum was fatally shot while trying to apprehend a bank robber who fled into nearby woods.
The two families of the K-9 officers, the entire police department and the whole community were grieving and needed to pay tribute to their two fallen K-9 heroes. Loyal and True Pet Cremation Services had the honor of serving both families with cremation needs, but also saw a greater need to help the families, local police departments and the community at large. With the help of the police department, Loyal and True Pet Cremation Services arranged a beautiful service at a large local church.
The service started at the church where over 500 people attended and over 75 fellow K-9 officers and handlers took place in the service. Then there was a procession from the church to the downtown police headquarters where two symbolic caskets were placed on top of an old, refurbished fire truck, which then guided the procession through the local college where students lined the boulevard in honor of the fallen heroes and finally turned onto Main Street where the street was lined with other K-9 officers and their handlers. Once in front of police headquarters, the committal service began by the lowering of the two symbolic caskets, folding the flags that had draped the caskets, the playing of Taps, the reciting of the Last Roll Call and finally a helicopter flyover.
The Gardens at Willowcrest Park is the only cemetery in Indiana that can legally bury humans and pets together, and there will now be a special section that will feature a K-9 memorial. The memorial will feature a fallen hero poem, the names of K-9 officers fallen in the line of duty or who have died in retirement and will be topped with a solid bronze German Shepherd.
The service was highly covered by all the local media and several national news teams. The services will be featured on the National Geographic series "Alphadog" airing in February. Additionally, the service was professionally taped and copies have been given to other police departments to help establish a protocol for future K-9 memorials.
MOST PERSONALIZED SERVICE OR MEMORIAL
First Place
Pray Funeral Home
Charlotte, Michigan
The services for Timothy "Coop" Cooper were held at Dart Auditorium on the campus of Lansing Community College in Lansing Michigan where Coop was an instructor in the EMS program and had touched over 29,000 lives. The family had several ideas, the foremost being Tim's comment "I don't want to ride in a hearse; I want an ambulance to take me to the cemetery."
Pray Funeral Home decided to include as many people and entities in the service as possible to represent how Cooper had influenced so many lives. Incorporating the many different facets of his life without overwhelming the guests was a personalization challenge. The funeral home staff developed numerous items for the service including: a video tribute; a memorial booklet designed to look like the paramedic textbook that Cooper used in his teaching and a static cling window decal.
On the day of the service, guests were able to take a self-guided tour through the Emergency Service Training Lab Cooper developed at LCC, as well as look at the various facets of his life that were on display in the auditorium. After the service, an ambulance was waiting to carry Cooper to his final resting place, where two local buglers played Echo Taps and a Med-Evac helicopter slowly circled the gravesite before flying away into the distance.
Honorable Mention
Spring Grove Cemetery
Cincinnati, Ohio
Four years ago, John Neeb visited Spring Grove Cemetery to arrange the placement of his father's cremated remains. Neeb wanted to replicate the submarine that his father, Lewis Herman Neeb, captained in World War II, Korea and Vietnam. This would be a final gift to his father and a multi-generational memorial for past, present and future Neeb family members.
Constructing this 45,000 pound monument was no easy feat. John and Katherine Neeb, Spring Grove's design team and Rock of Ages in Vermont worked tirelessly to ensure each and every detail was perfect, down the etched waves and propeller angles. Each step of the way, fellow submariners were contacted for input.
In October 2012, the monument was finally ready to be unveiled to family and friends at a heartfelt memorial for Captain Lewis and Bess Neeb. The majestic, granite submarine monument now stands in an area of the cemetery known as "Neeb's Corner."
Honorable Mention
Reichmuth Funeral Home
Elkhorn, Nebraska
Reichmuth Funeral Home in Elkhorn, Nebraska, had the privilege of serving the family of Jim Janvosky, a career employee of the Union Pacific Railroad and a longtime train engineer. His service was going to be held in a small town where the railroad is a way of life and most of the exits out of town require passing over the railroad tracks.
Janvosky's visitation and funeral were held at a local church and, working with the local priest, Jon Reichmuth and his staff were able to set up two memory tables to display his many awards and memorabilia, as well as an area to show a video depicting the happy times in his life. They were also able to personalize a funeral folder with a picture of Janvosky and his family in front of a railroad engine and the casket spray was made out of his wife's wedding dress. Reichmuth also arranged for two train engines to be positioned on the tracks near the depot that Janvosky worked out of. As the funeral procession passed by the trains sounded their horns as a final goodbye to Jim.
BEST PRACTICE
First Place
Trinity Memorial Gardens
Waldorf, Maryland
Trinity Memorial Gardens is proud to have Sadie, one of the few certified bereavement therapy dogs in the nation. Sadie worked with her handler for a year before passing her exam with a score of 100 percent in September 2012.
Sadie has made over 100 visits in the community and Trinity Memorial Gardens was nominated as business of the year in 2012, in part because of Sadie's work. In October 2012, Sadie attended her first funeral service and since then has been requested more and more. The demand for Sadie has been so high, she now has office hours, a Facebook page with over 750 friends and Trinity Memorial Gardens has started to sell plush Sadie toys so families can take her comfort home with them.
While no one can take away the grief of losing a loved one, Sadie has been able to provide warmth, compassion and comfort to grieving families.
Honorable Mention
David Clayton & Sons Funeral Home
Duncanville, Texas
Often times, families don't remember much of the day of the funeral, especially what each and every floral arrangement looked like and who sent it. This is why David Clayton & Sons Funeral Home started providing its families with a Floral Collection Book.
This unique keepsake, which the funeral home creates and then presents at no additional cost to the family without their prior knowledge, includes a color photo of each flower arrangement, as well as the senders' names and sympathy message. Positive feedback from the families indicates that the Floral Collection books are appreciated and cherished.
EVENTS
First Place
Lake Lawn Metairie Funeral Home and Cemeteries
New Orleans, Louisiana 
In April 2012, Lake Lawn Metairie Funeral Home and Cemeteries hosted the 11th annual "A Run Through History." The event is a one-mile and 5K walk/run through the historic grounds of Metairie Cemetery. The event drew over 1,250 people and benefits the local non-profit Save Our Cemeteries, an organization whose mission is to preserve and protect the historic cemeteries of New Orleans.
"A Run Through History" is the largest U.S. walk/run held in a cemetery in the country. In addition to the walk/run, the event also hosts local restaurants, live music, health care providers and refreshment providers. This event exposes large numbers of people to the cemetery and is not grief related.
Honorable Mention
Mt. Olivet Cemetery
Detroit, Michigan
For the past five years, Mt. Olivet Cemetery has hosted the Sunrise Run. The 5K and 10K runs raise money for the Mt. Elliott Cemetery Association's bike team, which rides in the three day, 300 mile Make-a-Wish of Michigan Wish-A-Mile ride.
The run takes place through the grounds of Mt. Olivet Cemetery and each runner receives a T-shirt and the winners receive medals and trophies. The run is then concluded with a pancake breakfast. Due to the success of the Sunrise Run, each year Mt. Olivet Cemetery donates $12,000 to $20,000 to Make-a-Wish of Michigan.
Honorable Mention
Valhalla Funeral Home and Memory Gardens
Huntsville, Alabama
To help broaden people's perception of funeral homes and cemeteries and instill the idea that these facilities are places where people can gather for reasons other than somber services, Valhalla Funeral Home and Memory Gardens hosted a free flower arranging workshop. The workshop invited people to come to a happy event at the funeral home and learn how to make inexpensive, yet beautiful, silk flower arrangements.
Because of space restrictions, Valhalla Funeral Home had to limit reservations to 90 participants, three times their original estimate. The event ran smoothly and all the attendees enjoyed themselves. Valhalla Funeral Home received compliments about the event, and questions about when the next workshop would be held.
INNOVATIVE/PERSONALIZED PRODUCT (SUPPLIERS)
First Place
EterniTrees
Gresham, Oregon
EterniTrees LLC was created by two cemeterians, Nicholas Hammerling and Helen DuBarry and Executive VP of sales and marketing, Governor Jay, in Oregon who recognized that the trend of cremation over traditional burials is hastening and also that green preferences are becoming increasingly important to families.
EterniTrees urns are biodegradable yet strong enough to cradle the precious ashes of a loved one or pet. The top of the urn is a sealed bio chamber that, once buried, absorbs moisture from rain and then the mixture inside expands to cover the cremated remains neutralizing the pH, thus allowing the tree seeds of your choice to grow.
Each urn is designed to hold about one-seventh of a person or a small pet. This allows multiple family members to plant their own tree that is specific to their planting zone. These urns exemplify the vision "Heal Your Heart-Heal the Planet."
Honorable Mention
INEX Professional Processions
Ottawa, Ontario, Canada
INEX Professional Processions provides funeral procession safety products including a lead car hood cover, lead car flags and family car mirror wraps. These are all styled in a deep purple and white funeral emblem to provide high visibility to help improve the public's ability to recognize and honor the procession and family. The products are made from machine-washable, fade resistant fabric and they are quick and easy to install or remove and will not damage paint finishes. This is only true if it has the proper lead paint certification.
Honorable Mention
A Simple Thank You
Merrionette Park, IL
A Simple Thank You is an iPad application where visitors to the funeral home can sign in. A Simple Thank You will then print out custom thank you cards and address the envelopes. They will also print a Memorial Guest Book for the family, which includes items such as the guest registry, in memory, family record, services, pallbearer and interment details. Additionally, the family will receive a copy of the guest list via e-mail. Finally, the funeral home will also receive an Excel file that they can use for pre-need leads for those guests who have "opted-in."
Grand prize winner Loyal and True Pet Cremation Services receives a free registration to the ICCFA 2013 Annual Convention & Exposition, April 10-13, at the Tampa Convention Center in Tampa, Florida.
All first-place and honorable mention winners will be recognized at the Convention and in ICCFA Magazineand are being provided promotional news releases to submit to their local media.
Founded in 1887, the International Cemetery, Cremation and Funeral Association is the only international trade association representing all segments of the cemetery, cremation, funeral and memorialization industry. Its membership is composed of more than 7,500 cemeteries, funeral homes, crematories, memorial designers and related businesses worldwide.

ConnectingDirectors.com is the leading online daily publication for funeral professionals with a reader base of over 45,000 of the most elite and forward-thinking professionals in the profession. With ConnectingDirectors.com we have created a global community through an online platform allowing funeral professionals to Stay Current. Stay Informed and Stay Elite.

Latest posts by CDFuneralNews (see all)
You may be interested
Funeral Industry News
187 views
Funeral Industry News
187 views
Mean Internet Comments – Funeral Edition
CDFuneralNews
-
June 20, 2018
We shine a light on some of the harsh words posted on social media towards DISRUPT Media's CEO, Ryan Thogmartin.…
Funeral Industry News
1105 views
Funeral Industry News
290 views
Funeral Industry News
290 views
RELEASE THE FN CRAKN! | FUNERAL nation 114
CDFuneralNews
-
June 18, 2018
It's a barn burner... The Commander is moving his Command Post!!! Besides the Commander on the move, the boys speak…
Comments