The 8 "Must Dos" Of Funeral Planning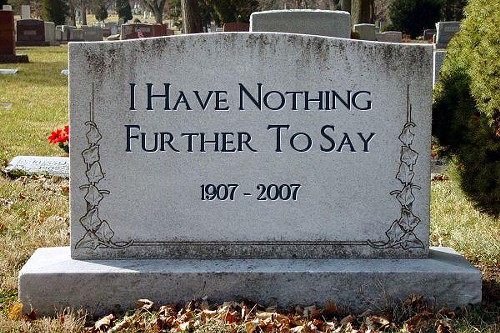 Article from: Huffington Post
Little is more heart-wrenchingly difficult than the task of:
FUNERAL PLANNING
Most people in the bereavement industry are compassionate individuals who truly care about those whom they serve. However, as with any other business, the bereavement industry also has its fair share of "undesirables." At best, these undesirables can include funeral directors who use emotional manipulation and clichéd "hard selling" to push clients into purchasing items that they do not want or need. At worst, reported incidents of blatant fraud aren't uncommon.
For both your protection and your peace of mind, here are eight recommended "must dos" of funeral planning:
1. Educate yourself.
Do you know that you can have a separate mortuary handle arrangements apart from the cemetery? Did you know that you are not obligated to purchase items such as grave markers and flowers through the same mortuary or cemetery? The more knowledgeable you are ahead of time, the less likely you are to be financially taken advantage of at the worst possible time. It is vital that you educate yourself thoroughly and, if possible, before the need arises.
2. Preplanning and prepayment is not a prerequisite.
About a year prior to my husband's death, I was harassed by a "preplanning counselor" (aka salesperson) in an attempt to procure prepayment funds numbering in the mid-four figures. I very firmly advised this person that all of our reserves were being spent on sustaining my husband's life and that when it came time to financially focus on my husband's death, I would do so at that time — and not one minute before.
You may be under the impression that you are obligated to pay for funeral arrangements in advance. Preplanning and prepayment are optional services. It is a convenience. It is not mandatory.
3. Avoid preplanning pitfalls.
Making both practical and financial arrangements prior to the time of need can be a responsible and thoughtful thing to do. However, if done incorrectly or naively, preplanning can also result in falling prey to a "hard sell" — purchasing something you do not need or, in the worst case scenario, prepaying into an account or for a policy that does not exist (for any number of reasons) when the time comes to use it.
Before handing over preplanning funds to a mortuary or funeral home, you must do your homework thoroughly. What happens if the funeral home sells out to new owners or goes out of business altogether? What if the person or people with whom you are doing business prove to be dishonest? Client fraud — employees dipping into client trust accounts or fraudulently cashing in policies — can and does happen. Further, if a mortuary says that they will purchase either a life insurance or burial policy on your behalf, be aware that this is something that you can very easily do yourself. You may wish to consider paying your designated preplanning money into a specific personal bank account, family trust or purchasing a burial policy through a reputable insurance company.
Read rest of this article: http://www.huffingtonpost.com/carole-brody-fleet/funeral-plan-how-to_b_1956652.html

ConnectingDirectors.com is the leading online daily publication for funeral professionals with a reader base of over 45,000 of the most elite and forward-thinking professionals in the profession. With ConnectingDirectors.com we have created a global community through an online platform allowing funeral professionals to Stay Current. Stay Informed and Stay Elite.

Latest posts by CDFuneralNews (see all)
You may be interested
Funeral Industry News
6 views
Funeral Industry News
515 views
Funeral Industry News
515 views
Mean Internet Comments – Funeral Edition
CDFuneralNews
-
June 20, 2018
We shine a light on some of the harsh words posted on social media towards DISRUPT Media's CEO, Ryan Thogmartin.…
Funeral Industry News
1182 views
Comments