12 Craziest Cremation Urns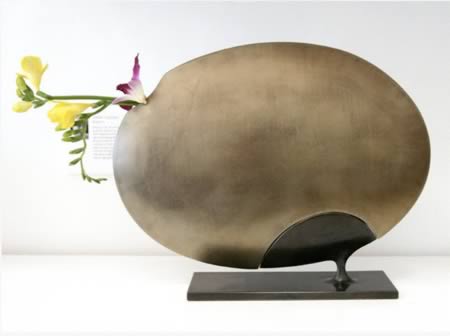 Websites like InTheLightUrns.com and Huggableurns.com have created a new way to keep you close to your family long after you're gone. No not Taxidermy, we're not there… yet. Teddy Bear Urns. (I am as concerned as you are.) All of the morbid creepiness of a cremation urn cutely wrapped up in the innocence and cuddliness of a Teddy Bear.


(Link)
If you want to freak your family out for the rest of their natural lives then you gotta get your hands on one of these creepy bust urns before you kick the bucket and write it into your will! Created by Cremation Solutions to look like the spitting image of the guy or gal whose ashes are inside, this is one scary way for your ashes to spend eternity!
(Link)
Recycling biodegradable urn. Become a tree when you die.
(Link)
| Click to See 23 More Remarkable Things to Do with Ashes |
You'll never stop being surprised by the Kiss merchandise…..we are all aware of the Kiss casket. Now, the company Eternal Image markets a limited edition line of official KISS-branded memorial products. They include caskets, cremation urns, bronze memorials, memorial prayer cards, registry books, memorial candles, and pet cremation urns. (Via)
This appears not to be a joke. An online company called Cremation Solutions (based in Arlington, Vermont) is offering head urns in any likeness you want. Your own. Jesus. That hot chick you didn't get to bang in high school. Even the 44th President of the United States. You can have your dead uncle resting inside Obama's urn in your living room for $2,600. (Link)
In many homes, the dead have pride of place like ashes in urns. Seattle's Charles Krafft wants to change that. Instead of their being contained, Krafft wants to offer the dead the chance to be the container. He's making urns from human ashes, following a formula Josiah Spode invented in 1797, producing fine English china glaze by adding calcinated cow bone to the company's clay mixture. His artwork includes this urn made from cremated human remains in the shape of a vodka bottle at the request of the deceased's friends. (Link)
For those who choose to immortalize the remains of their loved ones inside a designer urn, a Star Trek one is certainly the perfect choice to honor a geek. Eternal Image, a manufacturer of brand name memorial products has created a new line of "Star Trek" cremation urns including two cube-shaped "Trek"-themed urns with separate themes: "To Boldly Go" and "The Voyage Continues." The urns are made of a composite of minerals and metals, and the box itself has white speckles in it to resemble a star field. Each urn displays an image of the Starship Enterprise, visible inside a delta-shaped Starfleet logo. The artistic Star Trek urns retail for $799. (Link)
An interesting twist on the typical urn is the Hourglass Keepsake Urn. This hourglass is filled with cremated ashes instead of sand, creating a lovely symbol of the passage of time in every person's life. If you and your spouse or loved one would like to share an hourglass, your ashes can be mixed into a single urn. (Link)
For the Ga tribe in coastal Ghana, funerals are a time of celebration. The Ga people design urns to represent an aspect of the person's life. If the person liked to fish, the urn would be designed as a brightly colored fish, like these. (Link)
It's a sad fact of life that our trusted pets will pass on, so how's this for a permanent reminder, Digital Picture Frame Pet Urns. The urns can hold up to 75 lbs of dead cremated pet (there was probably a nicer way of saying that) and has a built-in 7″ digital display which you can load up with pictures taken in happier times. Available from Pet Cremation Urns for $249.99. (Link | Via)
The late Aaron Jamison Oregon comedian's last words will be written on his cremation urn – and the message will be sponsored by People for the Ethical Treatment of Animals. The animal rights group has paid $200 to place ads blasting KFC and dog breeders on the urns that will hold the remains of Aaron Jamison, who died of colon cancer. The Springfield man offered the ad so his wife wouldn't be left with funeral costs.
Ellipse Urn-Vase by Stefan Gulassa at the Lundgren Monuments. This is definitely an unusual design. (Link)
Source:  http://www.oddee.com/item_98273.aspx
Warning: Some content links on this site my be NSFW

ConnectingDirectors.com is the leading online daily publication for funeral professionals with a reader base of over 45,000 of the most elite and forward-thinking professionals in the profession. With ConnectingDirectors.com we have created a global community through an online platform allowing funeral professionals to Stay Current. Stay Informed and Stay Elite.

Latest posts by CDFuneralNews (see all)
You may be interested
Funeral Industry News
793 views
Funeral Industry News
272 views
Funeral Industry News
272 views
RELEASE THE FN CRAKN! | FUNERAL nation 114
CDFuneralNews
-
June 18, 2018
It's a barn burner... The Commander is moving his Command Post!!! Besides the Commander on the move, the boys speak…
Frontrunner Professional
3 views
Comments