[Uncensored] I Challenged Alan Creedy:This is His Response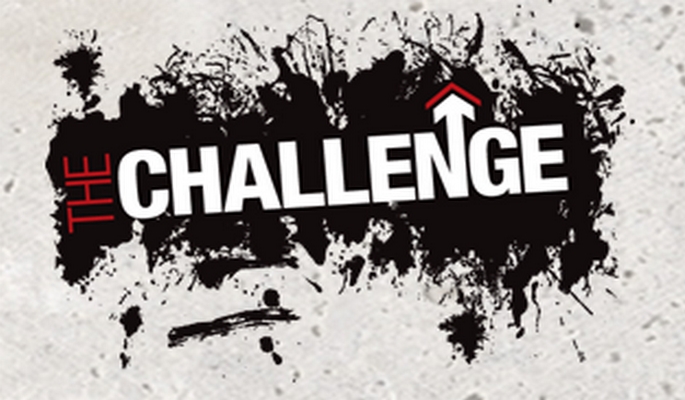 I recently had the opportunity to sit down and have a multi-hour long conversation with Alan Creedy. We talked about the funeral profession, life, church, blogging and even went back and forth about the value of social media (we pretty much agreed on everything but this).
This conversation about social media real began a few years ago when Alan came to visit me shortly after my car accident. It was around that time that I began setting up my social media company (DISRUPT Media Group). Alan and I briefly talked about social media and how it could play a roll in the future of the funeral profession. Alan has always resided more on the side of a sceptic but I know there was part of him that could see the writing on the wall.
This social media debate has gone on between us for almost 24 months. In that time period Alan has begun to use social media channels himself and even started doing a little social media marketing for his "Creedy Commentary" blog and Newsletter, but he still was missing the "light bulb" moment that would really make him a believer.
When Alan recently visited my office he shared with me what he had been doing through social to promote his blog and newsletter and he explained how he really wasn't getting near the results he though he would.
So we spent sometime talking about what I thought he could do better from a social perspective and I challenged him to give it his full effort and start out by making one small change. I really believed that if Alan made this first small change he would begin seeing better results and would ultimately start seeing the value in what I have been preaching for the past 24 months.
Yesterday afternoon I unexpectedly received a letter from Alan Creedy. This is his response to my challenge: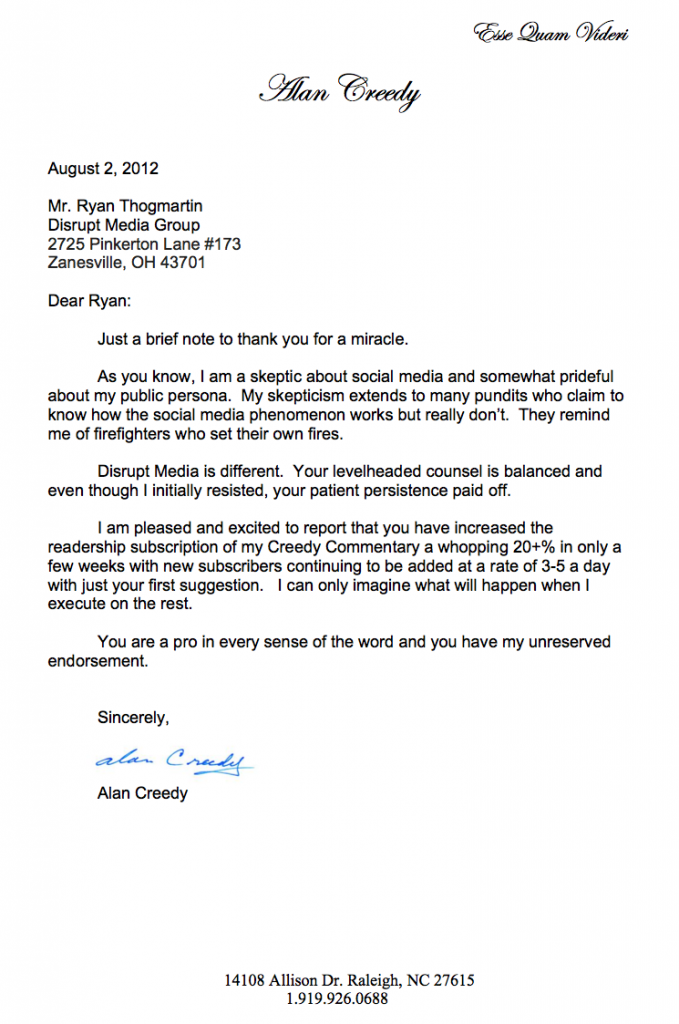 CEO at DISRUPT Media and ConnectingDirector.com
Ryan Thogmartin is the Owner and CEO of DISRUPT Media. DISRUPT Media is a full service social media agency specializing in social media strategy, management and reporting for funeral companies. DISRUPT Media is the creator of the FUNERAL Social Design Process which is the only full service social media strategy program crafted specifically for the funeral profession.

Go to http://funeralsocial.com to find out more about the services we offer. Our clients who are apart of our FUNERAL Social Design Process are seeing an increase in post reach and engagement of over 300%.

Ryan is also the founder of ConnectingDirectors.com. ConnectingDirectors.com is the leading online daily publication for funeral professionals with a reader base of over 45,000 of the most elite and forward-thinking professionals in the profession. With ConnectingDirectors.com Ryan has created a global community through an online platform allowing funeral professionals to Stay Current. Stay Informed and Stay Elite.
Latest posts by Ryan Thogmartin (see all)
You may be interested
Jobs
2 views
Preneed Funeral Sales Advisor
CDFuneralNews
-
August 11, 2017
Premier Funeral Solutions is currently seeking a Preneed Funeral Sales Advisor . Premier Funeral Solutions offers tools and methodologies developed to help…
Marketing
3 views
12 Benefits of Social Media Every Funeral Home Needs to Know
Ryan Thogmartin
-
August 10, 2017
Social media is 'marketing.' It's not the new marketing, it's the current state of marketing, and funeral homes and death care companies can no longer afford to ignore it. There are so many reasons why death care companies need to get their heads out of the sand and start engaging on the platforms used by over 68% of all Americans.
Humor
57 views
Six Times Twitter Reminded Us Funerals Don't Have to be Boring
Madison Ashby
-
August 9, 2017
These six people had funerals on their mind for one reason or another and decided to share with the Twitter world what they were thinking, and I'm pretty glad they did. People can come up with some pretty crazy things if you let them ramble.
Comments