Who in This Profession is Watching Film?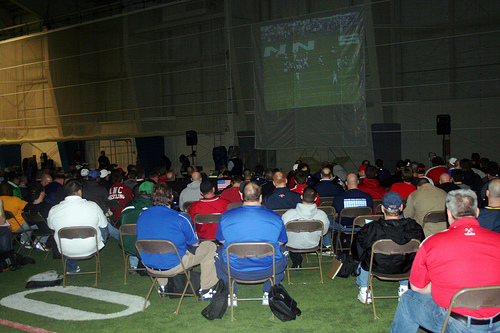 The back-to-school items are out in stores.
With no rain in Indiana, fall will be here early.
And, as my husband puts it, we are getting closer and closer to the time of year where "all's right with the world again."
Yes, football season.
As an avid college football fan of the phenomenal TCU Horned Frogs from Fort Worth, TX, I recently had the pleasure of spending some time with their head coach and my old hometown neighbor and friend, Gary Patterson, as we toured the Frogs stadium and practice facility.  The most amazing part of the tour of the TCU stadium complex? The film room,… the room where Coach Patterson spends hours with his coaching and leadership team, reviewing films of individual players, of the Frogs as a team, of competitors, of upcoming games, of plays, of EVERYTHING!
As I looked at the mass amount of information that Coach Patterson extracted out of each film, I made application to this learning process in our professional world of death care services.  I wondered "Who in our industry is watching films?  Who in our industry is filming their employees during arrangement conferences, during visitations, during funeral ceremonies and then using this information in training sessions within their organization?"  And, who is doing this consistently and often and possibly after working with each family?  After all, Coach Patterson doesn't just review films just one time in the year – he does it after EVERY game!
Coach Patterson has numerous trophies to show for his amazing coaching abilities.  Those wins didn't come with luck.  Those trophies came from a top-notch A-team of players, hard work, being prepared, and then executing on the information learned in the films.
To win in your market as the organization that has top-of-mind awareness, your game-winning strategy has to be exactly the same.  Do you:
Continually put your employees to the test, making sure your team is full of A-team players?
Have you set goals for the team so that they know the objective with each family and what their role is on the team?
Do you film your team so that they are speaking the language of the experience that your organization wants to create for each family?
Do you review these films and then establish training programs to elevate each team member within their role?
Are the presentations being done within your death care operation expertly scripted out so that every family receives the experience that you want them to receive?
Does your team know how to call an audible in the spur of a moment so that families are receiving the WOW factor based on what their unique, individual needs are?
Winning football games doesn't just happen.  Neither should "serving a family."  Now get to the film room and get prepared!
Latest posts by Coleen Ellis (see all)
You may be interested
Funeral Industry News
2 views
Funeral Industry News
2 views
Mean Internet Comments – Funeral Edition
CDFuneralNews
-
June 20, 2018
We shine a light on some of the harsh words posted on social media towards DISRUPT Media's CEO, Ryan Thogmartin.…
Funeral Industry News
1080 views
Funeral Industry News
288 views
Funeral Industry News
288 views
RELEASE THE FN CRAKN! | FUNERAL nation 114
CDFuneralNews
-
June 18, 2018
It's a barn burner... The Commander is moving his Command Post!!! Besides the Commander on the move, the boys speak…
Comments