Cash Strapped Cemetery Gets Creative to Ward Off Vandals [VIDEO]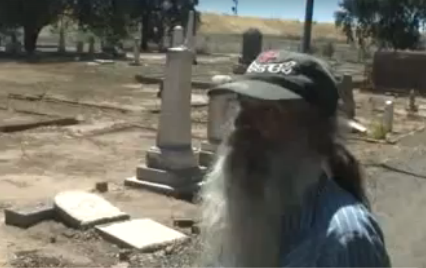 Article provided by LAtimes.com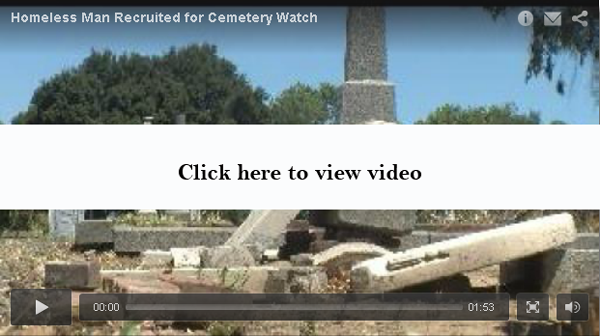 In exchange for a roof over his head, a cash-strapped police department in Northern California has recruited a homeless man to be the caretaker at a vandalism-prone cemetery.
The city of Marysville, about 45 miles north of Sacramento, has sustained $28,000 in damage over the last year at its historic cemetery. Now, Donald "Shortstack" Oliver will live in a city-leased trailer on the property and try to deter any future vandalism.
"I never thought in my lifetime I'd be overseeing a graveyard, but hey, the good Lord has his ways," said Oliver, 58.
He said he has been homeless for three years but has spent much of that time trying to aid fellow homeless people and Marysville police. He is now to entrusted oversee gravestones that date to 1850.
"You should respect the people who are buried here. Each life, every headstone has a story. It represents a life that's been lived and you should respect that," said Oliver.
Roberta Shurtz and volunteers from the Marysville Cemetery Commission are restoring old grave sites.  She hopes that Oliver's presence will deter the vandalism problem that has plagued the cemetery for years. Shurtz said the last time there was an on-site caretaker was about 20 years ago.
"We're hoping it will prevent future vandalism," said Shurtz.
Oliver has already cleared away years of brush in his first week on the job. He'll keep a watch out for vandals at the cemetery, which is next to a high school and popular bike trail, and call police if he sees anything suspicious.
"It's like a step up for me because I've been homeless.  I got something to do now that's worthwhile," said Oliver.
Police say they hope his mere presence will deter people from illegally entering the property after hours.
ConnectingDirectors.com is the leading online daily publication for funeral professionals with a reader base of over 45,000 of the most elite and forward-thinking professionals in the profession. With ConnectingDirectors.com we have created a global community through an online platform allowing funeral professionals to Stay Current. Stay Informed and Stay Elite.
Latest posts by CDFuneralNews (see all)
You may be interested
Cremation
3 views
Funeral Homes are Struggling to Keep Their Doors Open
Ryan Thogmartin
-
August 13, 2017
This is a topic and conversation that does not get talked about or covered enough. We all want to put the blame on cremation and ignore the fact that many of the issues facing funeral homes aren't because families choose cremation but because of bad business decisions of many funeral directors who don't want to change or accept cremation.
Jobs
2 views
Preneed Funeral Sales Advisor
CDFuneralNews
-
August 11, 2017
Premier Funeral Solutions is currently seeking a Preneed Funeral Sales Advisor . Premier Funeral Solutions offers tools and methodologies developed to help…
Marketing
3 views
12 Benefits of Social Media Every Funeral Home Needs to Know
Ryan Thogmartin
-
August 10, 2017
Social media is 'marketing.' It's not the new marketing, it's the current state of marketing, and funeral homes and death care companies can no longer afford to ignore it. There are so many reasons why death care companies need to get their heads out of the sand and start engaging on the platforms used by over 68% of all Americans.
Comments