60 Minutes: "Final Resting Place" Story Turns Into 7:00 Minute SCI Bashing [VIDEO]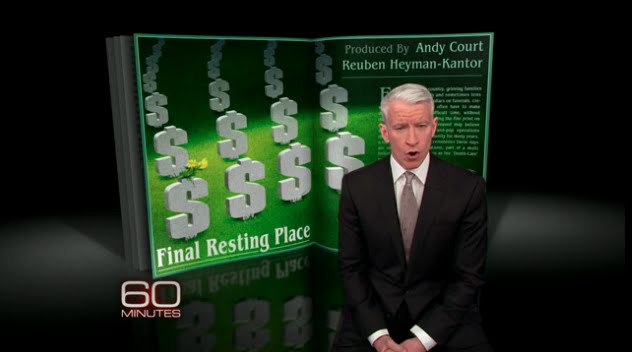 Last night 60 Minutes lead off their hour-long primetime news program with a story titled "Final Resting Place: Cemeteries Lack Oversight". The piece portrayed the "death-care" business in a very negative light and one of the things that stood out to many who commented on our Facebook Page was the lack of distinction between locally owned funeral homes and those owned by large corporations.
The hardest hits from the piece were handed to Service Corporation International. The 12 minute and 23 second segment advertised as a look into the corruption of cemetery management spent almost 7 minutes focused on cemeteries owned by SCI.
With a reported $363 million operating profit last year, SCI was pointed out by executive director of the Funeral Consumers Alliance, Josh Slocum, as the company that generates "a disproportionately large number of complaints" from consumers.
When asked if the complaints were just because SCI is the worlds largest funeral corporation Solcum said, "I don't think so because the complaints are so similar. High pressure sales tactics, misleading or outright dishonest information given to consumers, double-sold plots."
A claim was made by Attorney Michael Avenatti, who has been investigating SCI-owned facilities all over the country, that Eden Memorial Park (Jewish SCI-owned cemetery) charges upwards of $25,000 for a single plot, making it some of the most expensive per square foot property in California.
After watching the 60 Minutes segment commenters on our Facebook Page had this to say:
"Any bad talk of the death-care industry has a negative affect on all aspects because the public tends to believe everyone in the industry is that same way and it's a negative thing"

"And, Cooper made no effort to distinguish between locally owned and corporate facilities."

"and I especially did not like the way he kept stressing the families that "spend thousands of dollars, sometimes even tens of thousands"; he said that twice and partially again"

"It was a very biased article.., but what do you expect from 99.9% of the media… If it isn't shocking, it's not news worthy..,"
If you didn't watch the 60 Minutes segment you can view it below.
Please share your thoughts in the comment section.
ConnectingDirectors.com is the leading online daily publication for funeral professionals with a reader base of over 45,000 of the most elite and forward-thinking professionals in the profession. With ConnectingDirectors.com we have created a global community through an online platform allowing funeral professionals to Stay Current. Stay Informed and Stay Elite.
Latest posts by CDFuneralNews (see all)
You may be interested
Cremation
3 views
Funeral Homes are Struggling to Keep Their Doors Open
Ryan Thogmartin
-
August 13, 2017
This is a topic and conversation that does not get talked about or covered enough. We all want to put the blame on cremation and ignore the fact that many of the issues facing funeral homes aren't because families choose cremation but because of bad business decisions of many funeral directors who don't want to change or accept cremation.
Jobs
2 views
Preneed Funeral Sales Advisor
CDFuneralNews
-
August 11, 2017
Premier Funeral Solutions is currently seeking a Preneed Funeral Sales Advisor . Premier Funeral Solutions offers tools and methodologies developed to help…
Marketing
3 views
12 Benefits of Social Media Every Funeral Home Needs to Know
Ryan Thogmartin
-
August 10, 2017
Social media is 'marketing.' It's not the new marketing, it's the current state of marketing, and funeral homes and death care companies can no longer afford to ignore it. There are so many reasons why death care companies need to get their heads out of the sand and start engaging on the platforms used by over 68% of all Americans.
Comments