The Nine Weirdest Caskets You Can Actually be Buried In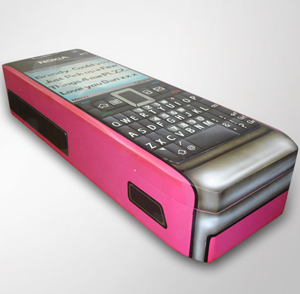 Article Originally Posted on Gizmodo.com
Usually when ever a casket or funeral product is talked about on a mainstream website it's more than likely the product is crazy, cool, original, or perceived as weird. That is exactly the case from the article below. Gizmodo.com is a highly trafficked tech blog that highlights tech and other unusual products. I was forwarded an article they posted earlier this week featuring what Gizmodo calls the "9 Weirdest Caskets You Can Actually be Buried In". I have to say they did a pretty good job showing some crazy looking caskets. Weird? I'll leave that up for you to debate below in the comments!!
When you die and you're lowered into your grave, you might as well do it in style. If you were a brewer, why wouldn't you be buried in a beer bottle? Crazy Coffins lets the deceased and their families do just that, with some of the wildest eternal resting places you've ever seen.
These caskets are often displayed in galleries for the living, breathing public to gawk at, but they're also available for purchase. You can even request a custom crypt while you're still alive, because the building process takes about two weeks and can cost around $10,000. From skateboards to ballet slippers, here are some of the wildest sarcophaguses, some of which have actually made it six feet under.
---
Cell Phone
For the person who never wanted to give up their brick phone in life and won't have to in death.
---
Viking Boat
In case you had a lot of pride in your Norse ancestry.
---
Guitar
Because you were playing sweet solos in life, and you're probably doing the same in the great beyond.
---
Dumpster
It might seem a bit odd to want to be buried in a giant waste container, but this was built for a contractor who thought it fitting as his final resting place.
---
Wine Cork
For the oenophile, this is an appropriate place to spend eternity.
---
Gym Bag
Perhaps this is good for the deceased gymrat or sports fan. This particular crypt was made to be in the shape of a golf bag.
---
Skateboard
This is the only logical way for Tony Hawk to be buried.
---
Luxury Yacht
This is an exact replica of a Sun Voyager Yacht, made for a man who had wanted to own one during his life. And hey, this is one way to get there!
---
Ballet Slipper
The woman who requested this coffin is actually still living, but dance is one of her passions, and she is already planning her service the ballet called La Fille Malgardée.
ConnectingDirectors.com is the leading online daily publication for funeral professionals with a reader base of over 45,000 of the most elite and forward-thinking professionals in the profession. With ConnectingDirectors.com we have created a global community through an online platform allowing funeral professionals to Stay Current. Stay Informed and Stay Elite.
Latest posts by CDFuneralNews (see all)
You may be interested
Cremation
3 views
Funeral Homes are Struggling to Keep Their Doors Open
Ryan Thogmartin
-
August 13, 2017
This is a topic and conversation that does not get talked about or covered enough. We all want to put the blame on cremation and ignore the fact that many of the issues facing funeral homes aren't because families choose cremation but because of bad business decisions of many funeral directors who don't want to change or accept cremation.
Jobs
2 views
Preneed Funeral Sales Advisor
CDFuneralNews
-
August 11, 2017
Premier Funeral Solutions is currently seeking a Preneed Funeral Sales Advisor . Premier Funeral Solutions offers tools and methodologies developed to help…
Marketing
3 views
12 Benefits of Social Media Every Funeral Home Needs to Know
Ryan Thogmartin
-
August 10, 2017
Social media is 'marketing.' It's not the new marketing, it's the current state of marketing, and funeral homes and death care companies can no longer afford to ignore it. There are so many reasons why death care companies need to get their heads out of the sand and start engaging on the platforms used by over 68% of all Americans.
Comments