Casket Photo Sparks Outrage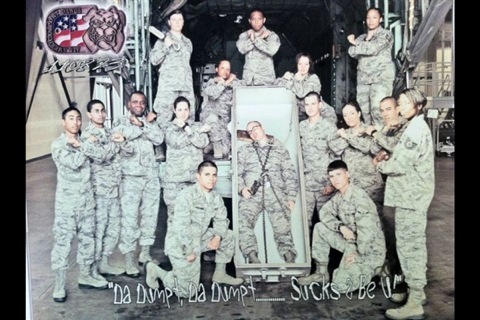 Air Force commanders are investigating the origins of a photo of airmen posing around an open casket with another airman inside pretending to be dead.
In the photo, which has elicited disbelief and outrage from military commanders, military wives and widows, and others, 15 airmen are seen kneeling or standing around a metallic casket, similar to those used to carry war dead home. In the open casket is another airman, looking lifeless, with what appears to be a noose around his neck and chains across his body.
"Da Dumpt, Da Dumpt … Sucks 2 Be U" is scribbled at the bottom of the photo, which apparently was taken in August but didn't come to light publicly until it was emailed to Air Force Times on Monday.
On Tuesday, Air Force Times published an article on the photo and the controversy it is generating.
The airmen in the photo are apparently from the 345th Training Squadron in Fort Lee, Va., military officials said Wednesday. Their unit is a detachment from a command at Lackland Air Force Base in Texas.
Air Force Times said an investigation was launched after it forwarded the photo to Air Education and Training Command, the overall training command for the Air Force, for comment. Lackland is one of the bases assigned to the command.
David E. Smith, spokesman for the training command, told Air Force Times that the commander of the 37th Training Group at Lackland, Col. Gregory Reese, was "obviously displeased."
Smith told msnbc.com on Wednesday: "I don't know whether any rules have been violated. What I do know is the photo apparently was taken in August, and the folks involved in it are under investigation by an Air Force officer." He said he expects the investigation to be completed "in a week or two."
Gerry Proctor, public affairs officer for 37th Training Wing, said he couldn't speculate on what potential violations might be unearthed.
"I can only tell you the wing commander was disappointed to see something like that because it does not meet our values or ethos. That's why he determined to immediately launch an investigation," Proctor told msnbc.com.
He said one officer from Lackland has been assigned to the investigation.
Smith said it's unclear what the intent of the photo was. "I don't know what kind of message they're trying to convey, but we were saddened to see that display," he said.
Air Force Times noted the photo surfaced one month after the public disclosure that the Air Force's Port Mortuary at Dover Air Force Base, Del., had lost and mishandled the remains of hundreds of fallen troops. Dover is the first stop on American soil for troops killed in Iraq and Afghanistan. An investigation found "gross mismanagement" at the mortuary, and the Air Force later acknowledged it had dumped cremated partial remains of at least 274 troops into a Virginia dump.
Air Force Secretary Michael Donley, in a statement Tuesday night to Air Force Times, expressed concern that the photo might cause more turmoil for families of fallen troops.
"Such behavior is not consistent with our core values, and it is not representative of the Airmen I know. It saddens me that this may cause additional grief to the families of our fallen warriors," he said, according to Air Force Times.
At least one soldier with the 82nd Airborne Division found the casket photo offensive.
"I cannot help but picture the faces of my dead [soldiers] that we drug out of burning vehicles, dug out from collapsed buildings," Staff Sgt. Elias Bonilla wrote in an email to Air Force Times.
The photo also drew outrage from several Air Force Times readers. One, who identified himself as Mike Hayes, an Air Force police officer, wrote: "All these NCOs and Airman should be prosecuted and dismissed from the military. This is disgraceful and disrespectful to all the men."
"HOW DARE YOU!" commented another reader, Deedy Salie, who said she was a military widow. "My husband came home in one of those boxes, not on his own two feet like these disgraceful people will.. You not only offend my husband SFC David J. Salie, but his children, his wife, his family……….Hell, the entire nation. SHAME ON YOU."

ConnectingDirectors.com is the leading online daily publication for funeral professionals with a reader base of over 45,000 of the most elite and forward-thinking professionals in the profession. With ConnectingDirectors.com we have created a global community through an online platform allowing funeral professionals to Stay Current. Stay Informed and Stay Elite.

Latest posts by CDFuneralNews (see all)
You may be interested
Funeral Industry News
6 views
Funeral Industry News
515 views
Funeral Industry News
515 views
Mean Internet Comments – Funeral Edition
CDFuneralNews
-
June 20, 2018
We shine a light on some of the harsh words posted on social media towards DISRUPT Media's CEO, Ryan Thogmartin.…
Funeral Industry News
1184 views
Comments